The final leg of the Borders Winter Cross Country series was held on Sunday at Whitesands, Dunbar on what must have been one of the most pleasant days this year, although a cold wind from the sea kept athletes cool in temperatures chillier than in Sochi.
Gala Harriers' juniors and seniors went into the final round well placed for team and individual honours after the 6 stage series and certainly did not disappoint.  Green and white vests were in the majority amongst the 80 junior and 126 senior runners who took to the beach and coastal route, with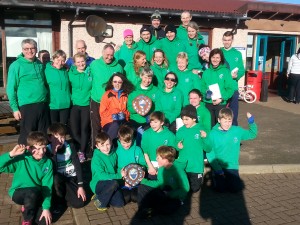 Thomas Otton (14 minutes 27 seconds) breasting the tape first for the juniors with Jason McIntosh in hot pursuit, and Joe Agnew, Andrew Hogg, Jamie Logan, James Mercer and Corri Campbell all finishing high up in the field and in their age categories.  Susannah Godfrey-Faussett flew home as the first Gala girl, followed by a strong turnout of the juniors who have been training throughout the winter, ensuring that the Gala juniors retained the team trophy by a country mile.  (All results can be found on the Borders Cross Country website).
Gala's 30 seniors were led home by Fergus Johnson who finished 7th overall in 27 minutes 11 seconds, backed up by great runs from Andrew Lawrie, Dave Moffat, Jamie McGowan and many others who ensured that the team took second place overall.  Going one better and assisted by first woman home Dianne Lauder (28.50), and highly placed Kirsten Maxwell, Fiona Dalgleish and Gillian Duncan, as well as fine performances from all Gala women – and the successful defence of the women's team prize was assured.
(Individual placings in age categories are still to be confirmed and will again be up on the Borders Cross Country website tomorrow – Monday).
Thanks are due to all the 6 hosting clubs who prepare and deliver consistently challenging and well-managed courses throughout the series, and to the organising committee, registration, publicity and results teams – all of whom donate their time and expertise on a voluntary basis, often in the worst possible weather conditions.