Harriers made the annual pilgrimage to Cumbernauld Park for the National Cross Country Relays on Saturday on a blowy day and, after the recent rain, found conditions very soft going.
A huge range of age groups and categories are represented in this major relay event and the club managed to ensure representation in all of them, with some significant successes and encouraging performances.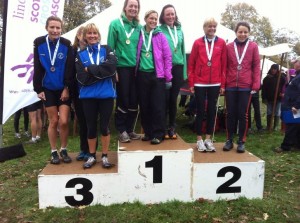 Top of the pile were the Masters women 'A' team who secured the gold medal with a stunning trio of races from Fiona Dalgleish (17 minutes and 9 seconds) Rachel Fagan (18.14) and Kate Jenkins (17.29), a most gratifying start to the winter season. Good performances also came from the masters 'B' team, consisting of Anya Campbell (17.58) Dawn Grant (20.07) and Fiona Shepherd (18.52). (*Photograph of winning team on Harriers' Facebook/website.)
The men's masters team, which was Gala's 'C' team of Alan Johnston (17.53) Derrick Brydon (18.21) Billy McCulloch (17.47) and Rory Campbell (17.36) have something to build on as the season progresses.
The club fielded two teams in the Senior men's category, with the 'A' team of Colin Welsh (16.01) Graeme Murdoch (14.25) Wayne Mackintosh (15.19) and Fergus Johnston (14.29) almost finishing in the top half, while David Moffat (15.50) Andrew Laurie (15.29) Ian Maxwell (16.56) and Mark Bryson (16.22) as the 'B' team finished 43rd from 48 teams. And in the same category, the Senior women's 'C' team, Kirstin Maxwell (16.13) Nicola Porterfield (18.24) and Eileen Maxwell (20.22) came in 27th out of 56, while the valiant Shelagh King, the sole member of the 'D' team ran out of partners but completed the course in 25.11.
In the Junior races, teams are made up of one representative from each of the three age categories, under 13, 15 and 17 years. The Gala Young Males 'A' team was a Bryson sandwich with younger brother Kieran (11.43) and older Gavin (9.25) on each side of Jamie Logan (10.33). The 'B' team consisted of Ryan Goudie (13.03) Yousuf Khursheed (11.56) and Thomas Otton (9.29).
The Young females 'B' team just pipped the 'A' team by two places with the honours going to Eilidh Forbes (13.01) Lindsay Jack (12.02) and Katie Rourke (11.50). The return of Susannah Godfrey-Fawcett wasn't quite enough to catch them but she had a fine run in 11.16, following on from Rhiannon Fagan (12.25) and Elena Heger (13.16).
On the same day, the Jedburgh Ultra event enjoyed fine weather and Dave Nightingale, fresh from his success in the Loch Ness Marathon powered around the 38 miles of tough off-road terrain in good shape. (No ultra results up yet). Sunday's Jedburgh half Marathon and 10k saw a handful of Harriers do battle against the strong winds, including some who had run the previous day. But pride of place goes to Dianne Lauder who stormed home as the first woman in 1 hour 20 minutes 31 seconds in 10th place overall. Graham Manczak had a fine run (1.22.39) in 16th place, with Tim Howell in 1.39.08.
In the 10K, Gavin Bryson, fresh from his national relay action came an impressive fourth in 34.08, with good performances from Jamie McGowan (39.21), Nicola Porterfield (45.04) and Dawn Grant (47.20). (*Photograph of Gavin Bryson in action on the Jedburgh Running Festival website.)
The previous weekend, Anne Purves had travelled to Aviemore for the half marathon there and loved her run through beautiful Speyside in 2 hours 28 minutes.