Round two of the East of Scotland Cross Country League took Gala Harriers to the hugely impressive Lornshill Academy Complex in Alloa on Saturday where in spite of fairly cold conditions, the sun shone and not a breath of wind greeted hundreds of runners from Under 11 to Seniors. Set against the stunning backdrop of the Ochil Hills, Alloa was making a welcome return to the cross country circuit after an absence of some 13 years, and the tight woodland trails and open fields made for a fair but very demanding course.
With the juniors again representing Team Borders, it was left to the seniors to fly the flag for the green machine. Disappointingly, for the second league race in a row, the senior women failed to turn out a team, with only Rachel Fagan making the trip. Obviously still on  a high from her Scotland honours the previous week in Cardiff, she ran a typical gutsy race on the 3.5 mile to finish 23rd in a good time of 25.57.
Despite two late call offs, the senior men could still field nine runners, and they went under starters orders in the last race of the day over 5.25 miles. With European Cross Country trials and the Scottish University Cross Country Champs on the same day, the race was a good chance for the Harriers to capitalise and finish that bit higher up the finishing order. This fact was certainly not lost on Fergus Johnston and Graeme Murdoch who both went out hard from the gun and had a great tussle for the first 2 laps before Murdoch edged ahead to finish in his best East League position of 15th (31.20). Fergus also finished well in 19th (31.50). Colin McCall needed no encouragement either as the prospect of half a dozen chilled beers for the journey home propelled him to his best East League placing (58th) in a time of 34.30. Andrew Lawrie in his first year for the club continues to improve each week and although taking an early fall on the partially frozen terrain, he also ran well to finish 95th (36.17). In the battle of the veterans, Derrick Brydon (37.31) and Rory Campbell (37.33) worked well together round the course before Derrick outsprinted Rory in the home straight for 118th and 119th place respectively. Men's Captain Billy McCulloch also ran well for 137th place in 38.22. James Purves (193rd) enjoyed his first taste of East League with a 43.12 clocking to complete another good day for the club.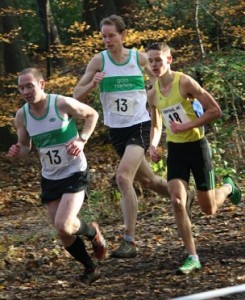 First published on 25th November 2013.