THREE EAST CROSS-COUNTRY LEAGUE TITLES FOR TEAM BORDERS
As the curtain fell on another East Cross-Country League at a grey and damp Broxburn on Saturday, Team Borders' runners came away celebrating another three age-group league titles and a fantastic success rate of 11 titles out of a possible 21 in the three seasons since the composite team was established for the League.
The Under-11 Boys, racing over 1.6k and leading by 32 points after the first two rounds, were the first to clinch the season silverware despite a strong Pitreavie team beating them into 2nd on the day. Corran Carrick-Anderson (Moorfoot) put in another excellent performance for a close 3rd place with clubmate Ethan Elder in 10th. And with Chirnside's Archie Fuller showing improved form for 16th that was more than enough to secure overall victory by a comfortable 60 points from Edinburgh with Pitreavie charging late for third.  That made it a hat-trick of three consecutive wins in this age-group for Team Borders.
The U-13 Girls also led going into the third and final leg but by a less secure margin of 13 points. Solid runs were called for to stave off the expected challenge from Central and the girls duly delivered with Moorfoot club-mates Mairi Wallace and Beth Hobbs having a private battle of their own for 4th and 5th over the 3k course,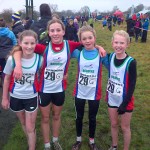 Mairi getting up in the final few strides to just pip Beth on the line. Gala's Susannah Godfrey-Faussett wasn't too far behind in 7th giving the girls a 7-point winning margin on the day from Edinburgh and stretching their final overall winning margin to 33 points from Central . Moorfoot Anna McGorum was snapping at her team-mates'  heels in 9th.
Next up it was the turn of the U13 Boys who only held a vulnerable 4-point lead over Corstorphine prior to the gun. And with usual counter Rory Williams from Chirnside absent, a few nails were down to the quick ahead of this one. But this is a strong age-group for the Borders and coaches' and parents' nerves were soon eased by the positive start made over the opening kilometre by Gala's strong-running Jamie Logan,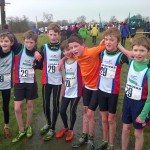 Moorfoot Euan Hood with Corri Campbell and Andrew Hogg from Gala also in close attendance within the top ten. With Jamie eventually coming home in 4th and Euan outsprinting a much-improved Corri for 7th, it was a 7-pont win on the day for the Borders boys ahead of Fife with Corstorphine back in third. Andrew kept on well for another finish inside the top ten. Overall that meant an extended winning margin of 18 points for the team, and the first time the Team Borders name will appear on that particular trophy, 31 years after Teviotdale Harriers won the title in their own right.  Whilst that was an end to the trophy bagging, there were some other notable performances, none more so than the eye-catching 3rd place by Elena McGorum (Moorfoot) in the U11 Girls' race. Support from club mates Eilidh Mooney in 8th and Megan Hobbs in 16th saw the girls finish only 2 points away from a team win on the day and in a creditable 3rd place overall,  a mere 5 points adrift of Edinburgh in 2nd.
The U17 Boys also ended the season in a podium position, 2nd on the day over 5.8k to Edinburgh and 2nd overall behind clear winners Aberdeen. Gala's Thomas Otton was top scorer in 6th with club-mates Jason McIntosh 10th just ahead of Gavin Bryson in 11th.
So ended another rewarding season for Team Borders with promise aplenty for cross-country running in the region.
 Other Team Borders results:
U-11 Girls: 45th Isla Taylor (Chirnside).
U-11 Boys: 36th Gregor Collins (Gala), 48th Oliver Stewart (Chirnside), 60th Charlie Stewart (Chirnside).
U-13 Boys:  12th Jamie Kinghorn (Chirnside), 18th Ben Reynolds (Chirnside), 28th  Joey Brown (Chirnside), 36th Harry Fuller (Chirnside).
U-15 /U-17 Girls: 23rd Ailsa Innes (Moorfoot).
U-15 Boys: 21st Joe Agnew (Gala).
U17 Boys:  12th Kobe Stevens (Moorfoot), 15th James Mercer (Gala).
Also running in the senior races at Broxburn were 17 year-old Moorfoots Jacob Adkin and Sophie Collins both first-year juniors. Running in a massive field of 255 runners, Jacob produced another strong performance to finish 14th overall and 2nd U-20 while Sophie kept on well to finish 4th U-20 and 48th overall in a field of 105 women.
(Gala/Teviotdale results from other sources.)