Bob Marshal 65 plus takes Gold, Gala ladies scooped silver.
 Last year, senior women from the Harriers had to travel to Forres to win a bronze medal in the Masters Cross Country Championships.  This year they only had to go to Hawick and the hopes of repeating their success, if not improving on it lay with Fiona Dalgleish, Gillian Duncan and Anya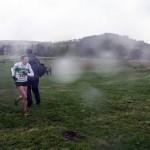 Campbell as potential counters, along with 6 other women whose job it was to keep the opposition further down the finishing order.  The 6 kilometre course took in a mix of farm fields and undulating open country above the town, Gala ladies were up against it with larger city clubs bringing their big guns with them. However, with astonishingly determined performances by Fiona (28 minutes 44 seconds) Gillian (30.27) and Anya (30.29) they scooped an amazing silver medal, behind Edinburgh Athletic Club and one point in front of Edinburgh's Hunters Bog Trotters.  Many congratulations to them on a sensational performance.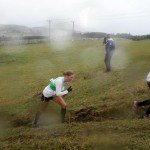 Behind every silver medal are the other runners from the club whose positions contribute to the final calculations and great performances from Fiona Shepherd (31.10) Andrea Pogson (31.23) Anne Weir (32.54) Eileen Maxwell (33.53) Eileen Nicol (36.31) and Shelagh King (40.28) ensured a good day's workout for all.Another medal came in the same race with the 65 plus men's race run concurrently, which was won in cracking style by Bob Marshall in 30.23, seeing off his 13 unlucky other rivals and claiming gold. 
 The senior men's race was over two longer laps and unlike last year when only one Gala man made it up to Forres, 7 Harriers joined the large turnout of 160, coming in a very creditable 9th team position out of 17, just pipping rivals Teviotdale Harriers on their home turf by one point.  The Harriers' challenge was led home by Mark Bryson (34.52), followed by Sinclair Hill (36.01) Paul Daly (36.59) Rory Campbell (37.35) Chrys Murphy (38.21) Tommy Knox (40.30) and James Purves (42.17)
 Next up for the Harriers is the last leg of the Winter Cross Country series at Dunbar on Sunday 16th February.  Juniors at 11.30, seniors at 12 noon, prize giving to follow.
Press contact: Rosi Capper, 01578 740269 and [email protected]