As always, the eagerly-awaited annual National Cross Country championships are held in the picturesque setting of Callendar House grounds, Falkirk and, as is often the case, the grassy parkland had been replaced by what could at best be described as a mudfest. Overhead though, the weather held fair until the very last race of the day and welcomed a record-breaking number of athletes and supporters. 
Having got used to running as part of the highly successful Team Borders, Gala juniors were once again representing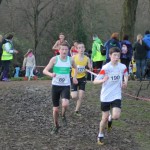 their own club in all the junior age categories.  The club's press reporter was so inspired by the new vocabulary of the snowsports in the Winter Olympics that some of the following descriptions might sound more like a snowslope commentary.
In the Under 13 Boys' race, Jamie Logan, Andrew Hogg, Corri Campbell and Mark Purves were totally stoked for their 3.2 k route and were lucky to have first go at the rapidly shredding terrain. Jamie Logan (13 minutes 24 seconds) took a massive 40 seconds off his last year's time to finish 14th out of 151 runners. Andrew Hogg (13.37), first-timer Corri Campbell (13.46) and a poorly Mark Purves (19.11) did stonkingly well to secure 9th team placing overall.  Susannah Godfrey-Faussett had set a new record in her school's cross country event the day before, but nevertheless the run she put down at Falkirk must rate amongst her very best.  In the Under 13 girls, she came 5th in an awesome14.07,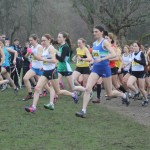 with Rhiannon Fagan (fresh from her bronze triumph last weekend – see below) in an excellent 14.39 and Elena Heger (17.38), sadly one girl short to make up a full team to count. 
Also incomplete were the Under 15 boys and girls' teams over 4k but Calum Tharme (15.58) and both Katie Rourke (18.22) and Joanna Mitchell (18.35) did very well in representing the club.
Over the 6.4k course, the team of U17 Boys did well to recapture the 6th team placing some of them secured last year in the U15s. Jason McIntosh (24.57) was tearing it up to put the lid on a superb 16th place, with pumped up Broc Drury (25.37) moving swiftly up the field to close on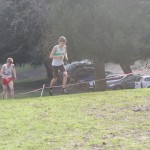 Thomas Otton (26.03)with Gavin Bryson (26.41) and James Mercer (28.33) stomping it home in style. Coaches Neil Renton and Graham Capper paid credit to all the juniors who had represented both their club at national and local levels and Team Borders at district level with excellent results in many arenas, including the Borders Winter XC series and the East District XC Championships and league.
The senior women's race covers 8 kilometres of the attractive parkland and 12 Gala women took on the distance amongst the large field of almost 250 runners, described as arguably the best ever showing of Scotland's top endurance women. With the internationalists up front, Gala's women mixed it with the best of the rest and took 10th team place overall with great runs by all in the worsening underfoot conditions.  Jenny Forbes (33.15) led the Gala team home in style with Fiona Dalgleish (33.39) not far behind and Kate Jenkins (34.44) and Anya Campbell (36.14) making the four counters.  Gillian Duncan (36.34) Fiona Shepherd (37.20) Joeleen McKean (38.10) Dawn Grant (38.18) Anne Weir (40.30) Arlene Botha (40.43) and Eileen Nicol (41.08) making their club proud.
A huge field of 463 senior men included 17 Harriers who took on the even longer12 kilometres as the last race of the day, by which time conditions were clarty to say the very least. Fergus Johnson led the team home in 45.03, followed by Graeme Murdoch (45.40) and Colin McCall (47.55) with solid races
from everyone, ensuring that the team brought home an improved overall team position of 15th. All senior results can be found at www.scottishathletics.org.uk
The previous weekend, by way of a sharpener for the Nationals, several Harriers took to the Pentland Hills for the Carnethy 5, on a cold but ultimately beautiful afternoon.  With almost 500 hardy souls in the field, 8 Harriers made it around the testing hilly route, led home by Fergus Johnston in a very creditable 36th place overall in 1 hour and 56 seconds.  Excellent and gutsy performances came from Anja Campbell (1.18.52) Martin Clarke (1.19.06) James Purves (1.20.45) Fiona Shepherd (1.23.09) Dave Nightingale (1.23.52) Alison Wilson (1.23.55) and Shelagh King (1.46.31).
And in the Emirates Stadium in Glasgow, two young Harriers were competing in the national Under 14 and 16 track and field championships.  Christie Rout progressed to the semi finals of the 60 metre sprint and to the final of the 200m sprint having put in consistently strong performances throughout, while Rhiannon Fagan qualified for the 800m final where she took a spectacular and richly-deserved bronze medal.