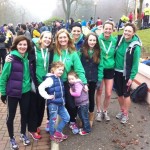 19 Harriers made the trip from a gloomy Gala, only to be greeted with even foggier conditions at the usual Livingston venue for the 6 and 4 Stage National Road Relays on Sunday. Traditionally viewed as the curtain raiser to the road running season, the largest field on record turned up to take on the alternate 3.1 mile and 5.8 mile legs. 
The Gala ladies had much to live up to having won the veterans title 12 months earlier. One and three quarter teams made it to the start line with a late call off from Anya Campbell. Jenny Forbes continues her preparation for the London marathon and ran a strong lead off leg (19.11) to set up the vets team. Not to be outdone, Arlene Botha put in an exceptional performance in her first experience of the road relays running a time of (21.32) and she should take a huge amount of confidence from that run. Rachel Fagan possibly wasn't at her strongest but dug deep on the second leg to increase the veteran teams lead (39.39) and handed over to Gillian Duncan who also looked strong (21.12) over the shorter distance. Ladies Captain Fiona Dalgleish has been a key member of the successful ladies achievements over the last 12 months so it was fitting that she should take the last leg (37.46) and bring back the gold medal for the girls,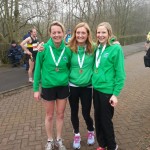 once again re-enforcing their dominance on both cross country and road. Fiona Shepherd was also in good form on the longer leg for the ladies incomplete team, running 40.57, and third runner Eileen Maxwell also had a good run over the short distance (22.59).
Central AC have dominated the men's event over the last few years and this year was no different with their top team posting the fastest collective team of the last 15 years to take the title. Two teams of six made the trip with the "A" team, reasonably strong across the board for the first time in a number of years. Colin Welsh (18.44) and Derrick Brydon (19.43) led the teams off and handed over to Graeme Murdoch and Steve Martin. Graeme's leg of 31.50 picked up 13 places and left the team in 16th place. Steve ran a solid leg (34.49) as he prepares for the London marathon. Wayne McIntosh (18.30) handed over to Colin McCall (34.10) who ran his best time ever for the long leg, before Andrew Lawrie (18.47) and finally Jamie McGowan (34.54) who also ran well  to give the team a finishing position of 16th. In the vets team, Al Laurie (22.24), Sinclair Hill (35.04), James Purves (23.22) and Dave Nightingale (38.04) gave the vets team a 4th place finish in their category