Downpours, mud, and cool temperatures greeted Gala Harriers for the third and final round of the East Cross Country League on Saturday in a soggy and overcast Broxburn. With the juniors out in force but representing Team Borders, it was left to 9 seniors to represent the club on a fairly grim day. With 6 races prior to the seniors, and several hours of torrential rain overnight and on the morning of the event, the course was particularly challenging for all runners. 
The ladies team have struggled to field runners in all league matches, and once again, Rachel Fagan was the sole representative, but she battled strongly round the course finishing in 31st place (25.45).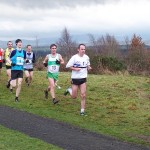 Men's captain Billy McCulloch managed to scrape 8 senior men together and they all went under starter's orders in the last race of the day over 5.5 miles. First back for the club was Graeme Murdoch in a very disappointing 38th place (33.48) by his standards.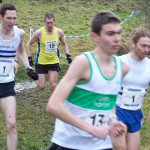 Only 7 places back was Fergus Johnston who is recovering from injury (34.15). Wayne McIntosh (76th) is not a huge fan of the cross country but still finished 3rd counter for the team in 36.22. The most notable performance of the day came from junior runner Andrew Lawrie (86th, 36.43) who continues to make good progress as the season continues. Sinclair Hill crept inside the top 100 with a 94th place finish in 36.59. Final counter for the team was Mark Bryson in 39.21 (144th). Not far behind Mark were Derrick Brydon (151st, 39.41) and Billy McCulloch (190th, 41.53) who recovered from an early fall to complete the Harriers finishing list.
Next up for the Harriers are the National Masters Cross Country Championships in Hawick on Saturday 1st February, where the ladies' Masters team in particular should be in confident mood after a great start to the season.