Conditions were not quite as good as last year for the second leg of the Borders Winter Cross Country series, held last weekend in Galashiels. A damp and misty day with lots of mud underfoot and chilly burn crossings greeted 116 juniors and 226 seniors who gathered in the Policies on Sunday.
The usual sea of green and white vests was very evident amongst the large junior field with 48 Gala Harrier youngsters representing the host club. Jamie Logan of Gala was thrilled to come home first in 10 minutes 42 seconds, with his teammate Callum Tharme just a handful of seconds behind in 10.47, both in the Boys' 14-15 age group.  Fraser Kelly (10.55) of Team East Lothian spoiled a Gala 1,2,3 with a fantastic run for a 12-13 year old, with Corri Campbell of Gala recording the same time in a spirited 4th place.  There were other encouraging Gala boys age category results for Andrew Hogg (11.10), Gregor Collins (11.41), George Godfrey-Faussett (12.41) and Evan Holloway (13.18)
In the junior girls' race, Mairi Wallace of Moorfoot was the first girl home in 12.08 with Gala's Katie Rourke second in 12.33, with Valencia Wright (12.48) of Glasgow's Victoria Park club ensuring a trio of superb runs. Gala's Rhiannon Fagan (13.02) and Harriet Woodland-Broome (13.05) finished high in their categories with strong runs working off each other. (All results can be found on the Borders XC website)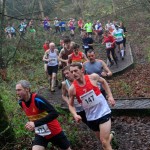 226 seniors started half an hour later with local dogwalkers wondering what had hit their usually quiet Sunday morning stroll.  The three top places went to Hunters Bog Trotter Hector Haines in a stand-out 21.42, with last year's winner Carnethy's Michael Reid (22.03) and teammate Andrew Fallas (22.08) in second and third. Gala's Thomas Otton has moved up to the senior ranks and stormed in in an amazing 4th place in 22.33, with Gavin Bryson stepping up too in an impressive 6th place in 22.41. As in the junior race, the Gala green and white vests were much in evidence with 34 Harriers taking to the increasingly muddy course in their own backyard.
Gala's women stole the show last year with the top three places staying local, but this year only Dianne Lauder (25.27) was able to retain her top place with her habitual superb run to finish almost half a minute up on the rest of the field in 24.05.  Second lady was Carnethy's Charlotte Morgan in 24.33, with Eilis McKechanie of Hunters Bog Trotters in 25.01. (As above, all results are up on the above website)
Thanks are due to all those who helped in any way on the day and previously for setting up the course, and for continuing permission to use the fields behind the policies which make the race so popular and challenging.