Junior Eildon Hill Race
18th Sept 2021
Click here full junior results 2021
Eildon three hill race 2021
60th Anniversary
1961-2021
SHR Championship Race
Results (full list all runners)
Click for map of Eildon race new route
Click here for : Eildon Three Hill Race – 18th September – Final Instructions
18th Sept 2021 11:00am
Number Collection
Junior Eildon Hill Race
from 10:15am
Gazebo Eildon mains
Bogle burn Road 
This is a new event for Junior Hill Runners and will start in the morning prior to the senior race.
The race will include the following age categories U13 U15 U17 and U20.  Age on the day of the race. Minimum age is 11 years old.
All runner will start together on the trail just up from Eildon Mains. There will be a 3k route for the U13 (Red) and a longer 4 K route (blue) for U15 plus. Cost per runner £6. Pre entry only with entry closing on the 12th September 2021. There will be no entry on the day. 
Gala Harriers will operate under Scottish Athletics guidance and will follow any covid restrictions in place on the day of the race.
There will be limited parking along the Bogle burn road. Alternative parking is recommended in the large council car park in Newtown St Boswells, which is approximately 15-minute steady walk to registration at Eildon Mains. Organisers recommend that traffic approach the race from Newtown St Boswells and avoid parking near the crematorium and cemetery as there may be a service on the day of the race.
Abbotsford Race 22nd August 2021 results
It was great to be back racing at Abbotsford and good to see a number of clubs being represented.
Click here for full results including category prizes 2 mile challenge
Click her for full results including category prizes 5 mile trail race
Tweedbank Open Graded Athletics 18th July 2021
Fantastic weather for our open graded athletics. It was the first time in over 16 months since we were able to hold an event at Tweedbank. Thank you to Live Borders for getting the stadium ready and a big thanks to all the volunteers time keepers for making it a great success.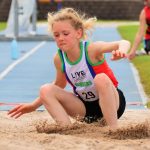 Tweedbank Open Graded Sunday 18th July 2021. Declarations from 12 noon. Closing date 15th July 2021 or when maximum entries reached. Scottish Border clubs only. Athletes must follow covid19 restrictions applicable on the day of the competition. 100m, 800m, 1500m(U13 and Older), Long Jump and Javelin (U11 throw turbo javelin).One event per athlete Click here to complete entry form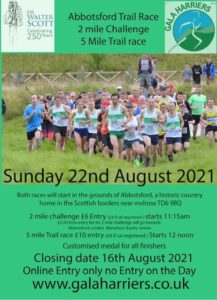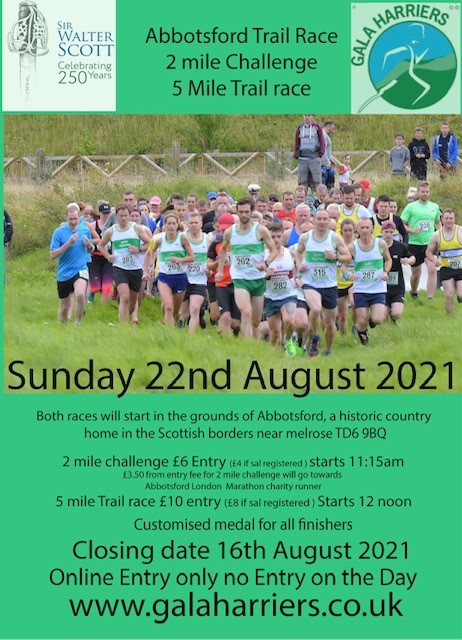 Abbotsford 5 mile Trail race and 2 mile challenge
Sunday 22nd August 2021
Eildon three hill race 2021
60th Anniversary
1961-2021 (SHR Championship Race)
Team Borders Trials 20th March 2016 (Click file below to view results)one 
Team Border Trial 20th March 2016 100m results [394277] – Copy
Team Border Trial 20th March 2016 800m results [394278] – Copy
Team Borders Trial 20th March 2016 High Jump Results [394279] – Copy
Team Borders Trial 20th March 2016 Long Jump Results [394280] – Copy
Team Borders Trials 20th March 2016 Shot Putt Results [394281] – Copy
****************************************************************************
Borders XC Junior Race Gala 2016_2016Ver2
Borders XC Senior Race Gala _2016Ver1
Gala Harriers 5k track results August 20th 2015
Gala Harriers 800m Results 27th August 15
Gala Harriers Henderson handicap 3rd Sept 2015
Holy Bush 10k handicap 11th May 2015 results: Hollybush handicap 2015 (2)
Rowan Boland 5k and 10k 1st May 2105 Results: Rowan Boland 5k Results 2015 Rowan Boland 10k results May 2015
Easter Challenge 2015 results :Tweedbank 5k Easter Challenge 2015 ver2
Gala Harriers 10k June 2015:Gala Harriers 10k June 2015 results
Gala Harriers 3k: Gala Harriers 3k fun run results June 2015
Eildon June 2015:Gala Harriers Eildon Three Hill Race results ver 1
5K Track results:Gala Harriers 5k track results August 20th 2015
800m track race:Gala Harriers 800m Results 27th August 15
Henderson race:Gala Harriers Henderson handicap 3rd Sept 2015