Nine Harriers made their way to London by plane, train and automobile for the 2019 edition of the London Marathon, one of the World's great marathons.  On a good day for running the excellent crowd support saw the elite athletes break records and run some of the fastest marathon times ever.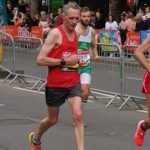 Only a little further back Marcus D'Agrosa was the first Harrier over the line in an excellent PB time of 2:37:02, finishing a superb 263rd overall in a field of over 42,000 runners.  Gary Trewartha was next Harrier home, again with a PB, in a time of 2:49:52. In her first marathon, Sara Green ran extremely strongly for a time of 3:04:39 and 184th female.  Only 7 minutes separated the next 5 Harrier athletes.  Last year Bob Johnson was a Guiness World record breaker, completing the marathon as a super-sized Mr Potato Head, but this year he raced around in more traditional running gear in 3:27:02.  Gillian Duncan completed her 3rd London marathon in an excellent time of 3:27:40. With a huge 38 minute PB, Justin Mihulka was next to finish in 3:32:00, closely followed by Carole Fortune completing a very impressive 15th London marathon in 3:32:17 and 18th place in her category.  David Nightingale's time of 3:34:37 was good enough for 107th in the M60 category and a fine effort in his 10th London marathon.  In her marathon debut Kirsty Meldrum ran strongly throughout the 26.2 miles to finish in an excellent 4:39:12.A superb experience for all Harriers and supporters who made the trip to the capital.
London Mini-Marathon
Gregor Collins represented Scotland at the London Mini-Marathon, with the race also serving as the British Road Championships at junior level.  The course is three miles long, covering the final section of the main marathon route from London's Old Billingsgate to The Mall. In a race involving the best young talent in British road running, Gregor scorched round the course in 16 min 43 seconds, a fantastic performance. Congratulations to Gregor on representing his country so well.