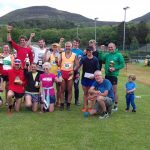 Organised by Gala Harriers, the Eildon Three Hills race is a traditional event which has taken place in late June for over 50 years and is part of the week-long Melrose Festival. Originally a race covering only one of the hills, the challenge has been increased first to two hills, but now covering all three main summits over a distance of 7.2 km and a total climb of 480m.
This year's event featured 92 runners from clubs across the country. The race was won impressively by Ben Huskins of Cambuslang Harriers in 37:11 mins, and by Charlotte Morgan of Carnethy Hill Racing Club in 42:12 mins. There was also lots of local interest with a number of Gala Harriers taking on the hills. There were team successes for Gala Harriers in the Men's and Women's events.
A full list of Harriers with overall finishing position and times follows: Gary Trewartha (12th; 44:33), Sinclair Hill (17th; 45:14), Colin Brown (18th; 45:18), Nat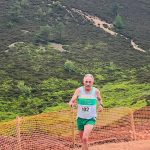 han Beard (21st; 45:55), Lizzie Macleish (23rd; 46:12), Bob Johnston (26th; 47:56), Sam McKinnon (28th; 48:11); Tony Lunn (31st 48:56), Alan Johnston (34th; 49:37), Billy McCulloch (36th; 49:58), David Nightingale (43rd; 52:03), James Purves (44th; 52:36), Carole Fortune (48th, 53:48), David Hunter (52nd; 55:16); Dawn Grant (66th; 1:00:32), Gary Fraser (74th, 1:03:44); Shelagh King (82nd, 1:09;04).